By
Arm bar. Guillotine. Kimura. Crucifix Neck Crank.
If you're a fan of mixed-martial arts, these words are music to your ears; for these are among the greatest submission holds that a viewer can view and a fighter can perform. Not all submissions receive acclaim, however. Thus, I present my pick for submission of the year. I have taken into account the fighters, the stages and the circumstances of the fight. And the winner is…(drum roll)…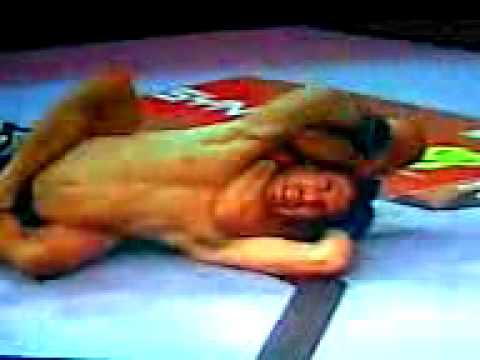 Rear naked choke. UFC 101. A fight for the Lightweight belt. Bad news for Kenny Florian, great news for you. Let me tell you why.
B.J. Penn had it all. That also meant he had it all to lose. Born in Hawaii, Penn trained in Brazilian Jiu-Jitsu under Ralph Gracie, the Brazilian martial artist known not so affectionately as "Pitbull," and only gained ground from there. In 2000, he became the first American-born winner of the World Jiu-Jitsu Championship in the black-belt category. Penn received his first MMA championship in 2004 at UFC 46. Penn jumped up in weight classes to challenge the five-time defending UFC Welterweight Champion Matt Hughes to fill a title contention slot.  Heavily favored to win,  Hughes lost the fight four minutes into the first round by what would become one of Penn's signature moves, the rear naked choke.
Penn lost the title in 2006 when Georges St. Pierre defeated him by unanimous decision for the welterweight title. By 2008, Penn had thought his career as an MMA fighter was coming to an end. He had plenty of wins under his belt, but the losses were starting to mount. A stint on The Ultimate Fighter 5 as a coach helped boost public appearance, but Penn missed his fighting days. Determined to prove to himself and the world that his reign wasn't over, Penn stayed at lightweight to challenge Joe Stevenson at UFC 80 for UFC Lightweight Champion. And guess what? Penn won. He became only the second person to win a title in two different weight classes (the other being the immaculate Randy Couture).
Kenny Florian only had seven fights under his belt prior to his fight at UFC 101. Penn had thirty-three. Penn had everything to lose in this fight. It was a crucial part of his comeback: defending the title. Being what Sherdog and MMAWeekly calls the best lightweight fighter in the world, Penn deserved this win after four long rounds.  Winning two titles in two different weight classes is one thing. Defending that title and defending it successfully, well, that's something that I deem worthy of submission of the year.