By
From Ultimate Fighting Competitions to all types wrestling and everything in between, the double leg takedown is one of the mainstays of the Mixed Martial Arts. The double leg takedown is a really efficient and often used martial arts technique to take an opponent down. The double leg takedown is almost twice as effective as the single leg takedown.
Just like any other move we do in mixed martial arts you must know and practice the proper stance and execution of the double leg takedown. To start off doing a double leg takedown the frst thing we must do is fake out our opponent and feign a head attack, all the while you maintain eye contact with your opponent that will keep him from thinking you are going to go for the ground. While you are faking the head attacks or maybe even with some jabs you slowly close the distance between you and your opponent.
The next step is to shoot for the legs. How this is accomplished is you crouch down into a semi squat position, the reason we do this is so that we can prevent just throwing our upper body against your opponents lower body. While in the crouch position you have your hands out in front of you.Then you step forward and go in for the leg shoot. Make sure when you go in for the leg shoot that lead with your arms and your chest and you must keep your head back. When you shoot your opponents legs be sure you grab him around his thighs. Once you have your arms wrapped around his thighs turn your head sideways as this will help with leverage and also prevent an unwanted neck injury.
To take your opponent down to the mat now that you have his legs locked up all you reallly need to do is push forward with your weight and pull on his legs and this will take them down. Just to make things a little easier for all of you so that you can understand it a little easier. here are a few videos for you to watch and learn from.
Video With MMA Champion Josh Koscheck showing us how to do a Double Leg Take Down.
Georges St Pierre showing us a modified version of a double leg takedown.
Jeff Keaton instructing us on how to set up for  a double leg takedown.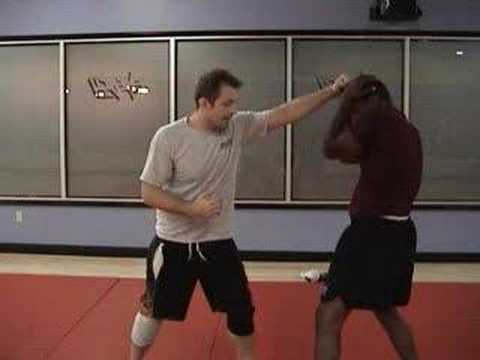 Chuck Liddell Showcasing how he does a double leg take down.