By
It is no secret that UFC heavyweight champion Brock Lesnar and contender Frank Mir have a bitter relationship, to say the least. However, Mir will have to get through heavyweight powerhouse Shane Carwin (11-0) at UFC 111 before he can enact his dream of regaining the undisputed heavyweight title from Lesnar.
On Saturday, Mir will have the chance to guarantee himself the next shot at Lesnar with a win over Carwin in a bout, scheduled for five rounds, for the interim heavyweight championship. The fight is scheduled as the co-main event of the evening at the Prudential Center in Newark, N.J.
Fighting out of Las Vegas, Nev., Mir is a former UFC heavyweight and interim heavyweight champion. Mir, a black belt in kenpo karate and Brazilian jiu-jitsu, currently trains with Team Sityodtong in Boston, Massa., under owner and head trainer Mark DellaGrotte. He earned his black belt in BJJ under Ricardo Pires after only five years of training.
Currently holding a professional MMA record of 13-4, Mir is an accomplished grappler and renowned submission artist whose standup has drastically improved with each appearance in the octagon. He is the 2007 NAGA absolute division champion. Of his 13 victories, eight have come by way of submission.
After winning the UFC championship in a match with Tim Sylvia at UFC 48 in 2004, at the age of 25, Mir faced a potentially career ending injury. He was left with a broken femur and torn ligaments in his knee after a motorcycle accident, and was told that he may never walk again, let alone fight. Mir was stripped of his title after 14 months.
In 2006, nearly 2 years later, Mir returned to the octagon. In 2008, Mir shocked the world by submitting rising star Brock Lesnar in the first round at UFC 81, in a match in which he was clearly outsized and not favored to win.
After running through Antonio Rodrigo Nogueira for the interim heavyweight championship at UFC 92, Mir faced Lesnar in a rematch for the undisputed heavyweight championship in the main event of UFC 100.
Lesnar, a NCAA national champion wrestler, took Mir down with ease in the first round and smothered him, landing effective ground-and-pound. In the second round Mir landed a left elbow followed by a flying knee that rocked Lesnar, but he gave up the takedown in doing so. Lesnar continued to land brutal ground-and-pound from the top position until the match was stopped at 1:48 into the second round via TKO.
In the co-main event of UFC 107, Mir faced off with muay thai and kickboxing ace Cheick Kongo. Mir beat Kongo at his own game, dropping him with a lead left hook less than a minute into the fight. Mir then locked in a guillotine and choked Kongo unconscious, ending the fight at just 1:12 into the first round.
Carwin, a NCAA division II national champion wrestler and boxer with incredible knockout power, presents a huge challenge to Mir. In Carwin's 11-fight MMA career, he has earned six victories via knockout or TKO and 11 first round stoppages.
With all of his losses coming by way of TKO, Mir is not known for his ability to take a punch, especially while fighting off of his back. Carwin's wrestling background and powerful punches could prove dangerous to Mir. However, Mir's submission game will present a threat to Carwin should the fight go to the ground, and Mir is perhaps the more technically sound striker. Mir recently stated that he believes that Carwin is a more dangerous version of Lesnar.
Carwin showed a good chin in his last fight against Gabriel Gonzaga and was able to get off of his back in a matter of seconds. With his 11 career fights lasting just over 12 minutes, it will be difficult for Mir to study Carwin for weaknesses, so he will likely stick to his normal training regimen.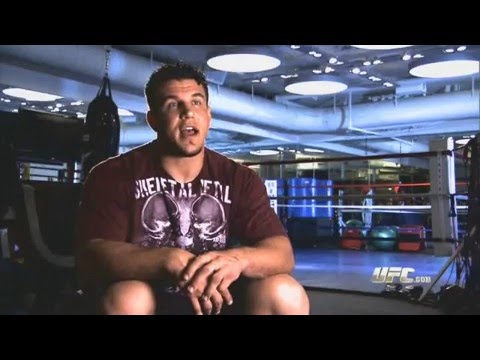 Live pay-per-view coverage of UFC 111 will begin at 10 p.m. EST