By
Cain Ramirez Velasquez, one of  the UFC's rising stars in the now stacked heavyweight division, looks to prove himself as a top contender for the title with a win this Saturday at UFC 110.
The main event of UFC 110 will feature Velasquez, 27, facing off against Antonio Rodrigo Nogueira (32-5-1, 1 NC) in Sydney, Australia.  Velasquez holds a perfect professional MMA record of 7-0, with six of his wins coming by way of knockout or TKO.  He holds a 5-0 record in UFC competition.
Velasquez first developed his strong wrestling base at Kofa High School, located in Yuma, AZ, where he became a two-time 5A state champion.  He went on to become a two-time All American collegiate wrestler at Arizona State and a Junior College National Champ at Iowa Central Community College.
As an American MMA fighter based out of California, Velasquez strongly embraces and takes pride in his Mexican descent.  He is currently fighting out of American Kickboxing Academy in San Jose, CA.
Velasquez's lone decision victory came in his fight against French kickboxing ace Cheick Kongo (14-6-1) on June 13 at UFC 99. Velasquez dominated the fight on the ground scoring a unanimous decision: 30-26, 30-27, 30-25.
Despite the one-sided nature of the judges' scores, the fight did reveal weaknesses in Velasquez's game and was perhaps his only professional MMA fight to do so.  He was caught with big shots, which seemingly hurt him and forced him to go for the takedown at the beginning of each round.
This demonstrated a weakness of Velasquez leaving himself too open to strikes while looking for the takedown, or poor striking defense in the stand-up in general.  However Velasquez weathered Kongo's devastating blows and took the upper hand, which demonstrated a phenomenal chin.
In his next fight Velasquez ran through a top-level opponent and showed unquestionable progression as a complete MMA fighter.  Velasquez took down Ben Rothwell (30-7) with seemingly little effort and battered him on the the ground  for a TKO victory on October 24 at UFC 104.
Velasquez controlled Rothwell on the ground and in the clinch, reigning down blows until the fight was stopped in the second round (0:58).  Rothwell had very little response or defense to Velasquez's game plan.
Velasquez's strong wrestling skills were undoubtedly the most pivotal part of his game in his last two octagon appearances.  However, his takedown offense and strong ground game may not be as relevant in his upcoming fight, as they may present dangerous situations for him against submission specialist Antonio Rodrigo Nogueira.
Nogueira holds a black belt in both brazilian jiu jitsu and judo.  Velasquez holds just a purple belt in brazilian jiu jitsu.  Nogueira's technical ground game and particularly his strong submission skills will pose a challenge to Velasquez's wrestling game.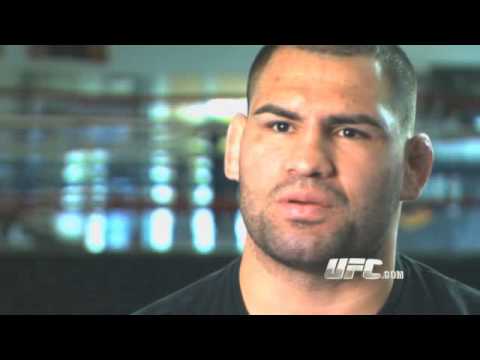 Of Nogueira's 31 career wins, 20 have come by way of submission.  Velasquez will likely break away from his normal game plan and possibly even change his training regiment in order to counter this threat.  It would not be out of the ordinary to see a stand up battle between two ground experts.