By
Tito Ortiz is a monster. If you watch the video above, this isn't news to you. Not only did he send Wes Albritton packing in 31 seconds in Ortiz's first UFC fight, he did it with punches, not submission. Whoever taught this guy must be the greatest MMA fighter to ever say the word "Octagon," right?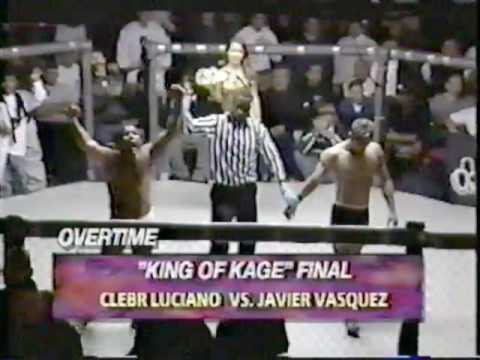 The Pan American, MMA King of Kage, No-Gi Pan Am, 6x Brazilian, Mundials, and Black Belt Challenge champion, not to mention Jiu-Jitsu master (whew) is Cleber Luciano, Tito Ortiz's mentor and a helluva fighter in his own right. The video says it all, but wow. This guy can kick butt and then some. Ortiz began training with Luciano when his MMA career was in it's infancy in 1997. Ortiz was still in college, but he had been wrestling since high school. That was the problem: he needed to expand his horizons beyond wrestling to comepete seriously in MMA. That's where Luciano came in; he taught Ortiz his trademark styles of Jiu-Jitsu and Judo.
Flash forward a few months to UFC 13, a.k.a the video at the start of this blog. Looks viagra for men under 30. like someone learned from someone else who's pretty damn good at this whole fighting thing, doesn't it? Over the next decade, Luciano watched his star shoot to the top of the MMA world, but his career wasn't completely over. He fought a few fights, split wins and losses, but his attention was much more focused on something he realized he was great at: training fighters. Including Ortiz, Luciano trained fighters with his new Cleber Jiu-Jitsu Rio-Brasil organization, specializing in training fighters in Brazilian Jiu-Jitsu.
Those who love to do, eventually teach others how to do just as well, if not better. Cleber Luciano taught Ortiz how to fight, and the latter could probably hold his own now against any fighter/NFL lineman out there. Luciano's a great trainer and coach, and that's why he's highlighted here as on of the great cornermen.
Enjoy this little video of Ortiz training at Cleber Jiu-Jitsu Rio-Brasil. The Rocky music adds a nice air of, 'i-wanna-go-kick-some-butt-too.' Although I'm probably just gonna keep sitting at the computer, not training to beat Tito Ortiz.